The key to getting the smoothest bulletproof coffee is to choose the right blender. But what's the best blender for bulletproof coffee?
The Vitamix 5200 Blender is our top choice for making bulletproof coffee. While Vitamix blenders are more expensive, they are designed to withstand high temperatures and their motors are powerful enough to blend your drinks to a smooth, creamy texture.
However, if you want a cheaper alternative that can still get the job done, we'd recommend the Ninja Professional Blender. (check out the Ninja Blender on Amazon.)
Keep in mind that not all blenders can tolerate hot coffee temperatures without being damaged. And there are several other issues you may run into if you choose the wrong blender.
Keep reading to learn more!
First, What Is Bulletproof Coffee?
Bulletproof coffee (a.k.a. butter coffee) is a low-carb, high-fat coffee that's commonly used with a ketogenic diet. It's black coffee that's had fats such as grass-fed butter, MCT oil, or ghee added to it.
The coffee and fats are then blended to a creamy texture.
The purpose of drinking bulletproof coffee is to provide a way to quickly and easily ingest fats and promote a ketogenic metabolic state.
Proponents of a ketogenic lifestyle often incorporate this drink into their morning routine as a low-carb, high-fat breakfast substitute.
Shop For Related Products
What To Look For In A Blender For Bulletproof Coffee.
The best blenders for butter coffee should be BPA-free and have different speed settings.
But more importantly, since bulletproof coffee is hot coffee and fat, you need a blender that:
Can handle hot liquids
Won't leak under pressure
Get A Blender That Can Handle Hot Liquids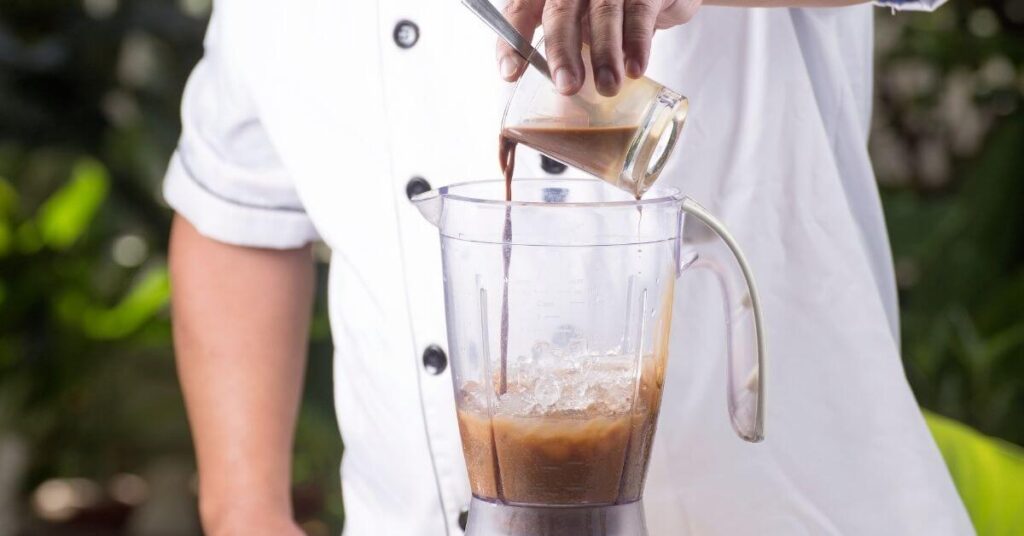 When making bulletproof coffee, you're going to be pouring hot coffee into the blender. So, avoid buying a blender made of cheap plastic material. There are stories of blender parts melting or breaking because the liquid was too hot to handle.
A high-quality glass container is your best bet if you want a reliable, long-term blender.
Alternatively, if you do get plastic, make sure it's high-quality plastic, durable, and BPA-free.
---
Related Posts:
---
Avoid Upside Down Blenders That Can Leak Hot Liquids
Another thing to keep in mind is that hot liquids also steam. And this steam causes pressure to build up in your kitchen blender.
If you've got an upside-down blender, the pressure can cause the hot coffee to leak out of the container. This also makes the process a little risky for the motor of the blender.
So, look for a blender that stands upright, and not upside-down.
1. Vitamix 5200 Blender (Our top Choice)
Our top choice is the Vitamix 5200 Blender. This is a countertop blender we've used for a number of years and it's our favorite by far. But it's not just us! Even Starbucks and Smoothie King use Vitamix to blend their drinks!
The motor is insanely powerful. And the blender's container is specially made to handle hot soups, which makes it an excellent choice for making bulletproof coffee.
If you don't mind spending a pretty penny for a top-notch blender, we'd recommend the Vitamix 5200 Blender. It's a multipurpose blender that you can make your bulletproof coffee smooth and consistent.
Moreover, the hardened stainless-steel blades and the powerful motor will ensure effective and safe blending. The blender also doesn't produce much noise, so you will not be disturbing other people with your bulletproof coffee blending.
However, the blender doesn't seem to keep the liquid inside as the lid may leak a bit. And, the blender is also a little pricey.
Pros
Durable container
Strong and safe stainless-steel blades
Self-cleaning
Low noise level
Powerful motor
Cons
Pricey
The lid may leak a bit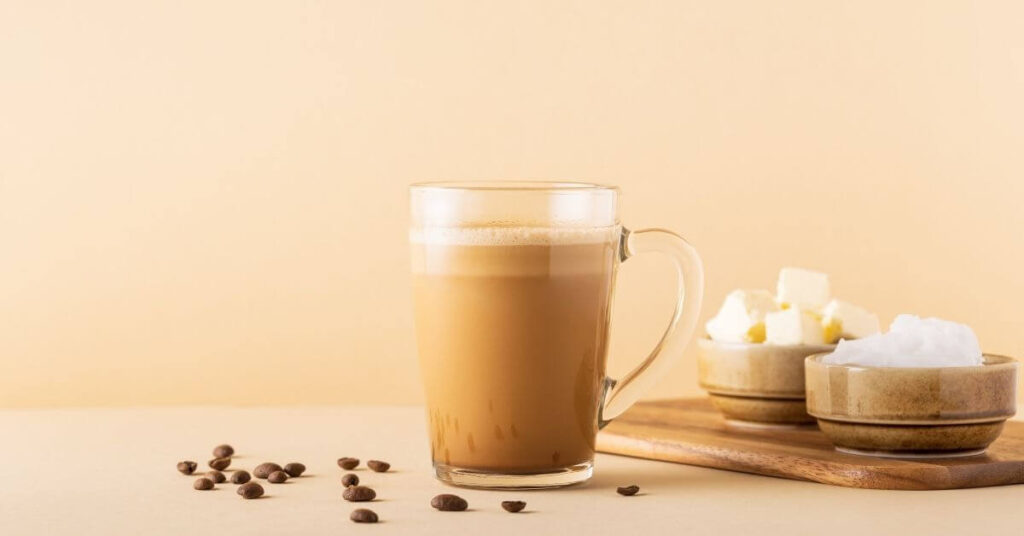 2. Blendtec Total Classic Original Blender
The second on our list of the best blender for bulletproof coffee is the Blendtec Total Classic Original Blender; it's not only powerful, but the winged stainless-steel blades make it quite effective too.
This is another excellent brand that was used by Starbucks before they switched to Vitamix.
The container is meant for hot soups, so there isn't any reason it won't withstand the coffee blending temperatures. It will efficiently handle the fats too.
Moreover, the container is BPA-free, making it safe for your bulletproof coffee. It has the capacity of blending 32 ounces of coffee, which is enough for 3 – 4 servings.
You don't have to reheat your brewed coffee; the blade friction heating mechanism in the blender ensures that you get a steamy bulletproof coffee.
Plus, the blender is self-cleaning; you just have to add a little soap and water; the rest is done by the blender.
However, the blender doesn't have a tight-fit lid, so it can leak a little liquid if the fill level is close to the lid. Plus, it may not be very stable too; you will have to put your hands on it while using the blender.
Pros
Powerful, efficient blades
3 – 4 servings per container
Good temperature and fat handling
Self-cleaning
Cons
The lid may leak a bit
The lid may come off (putting hands over it will do)
---
Related Posts:
---
3. Oster Versa Pro
The Oster Versa Pro has a spacious and quality container that can handle 8 cups of your coffee per batch.
It's BPA-free and made up of Titan plastic, making it safe and durable for high-temperature blending. You don't have to worry about fat handling as well.
Moreover, the blender has an 1100-watt powerful motor, ensuring easy and efficient blending of butter, oil, and coffee. The dual direction blade technology also allows the blender to make a frosty and creamy coffee.
Plus, if you have a dishwasher, you can use it to clean the container as it's dishwasher safe. But, the blades are a pain to clean thoroughly.
And, the blender is a little loud. It does the job quite efficiently though.
It's ideal for you if you are eying a powerful blender without any concern for the noise and don't have a problem cleaning the blades manually.
Pros
Spacious and durable container
Effective temperature and fat handling
Powerful motor
Stainless steel blades
Dishwasher safe
Cons
Loud
Blade cleaning is a pain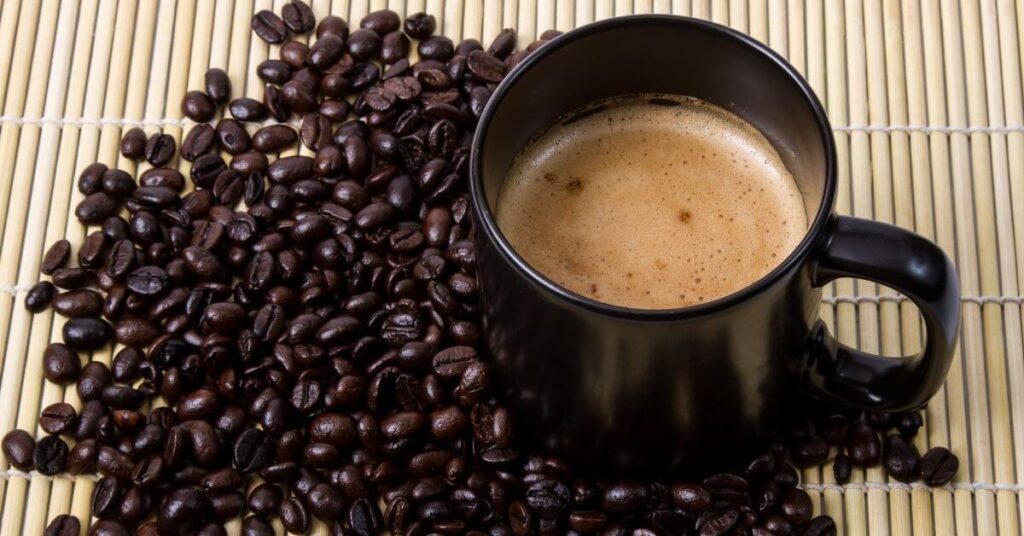 4. Ninja Professional Blender
The Ninja Professional blender has a 64-ounce liquid capacity, allowing you to blend 8 cups of bulletproof coffee for the whole squad.
The container can easily withstand the high temperatures of coffee blending and can handle the fats as well.
Thankfully, the blades of this blender are removable, allowing you to clean the pitcher with ease.  
Plus, the stacked blade assembly ensures that every part of your bulletproof coffee mixture is blended effectively, resulting in a smooth texture.
Moreover, it's quite a powerful blender; with 1400 peak watt-hours of power, it won't have any problem producing a frothy, creamy cup of joe.
However, it's not the quietest. You will have to use the blender at a time when no one can be disturbed.
And, the container is made of plastic; for bulletproof coffee blending, it's always preferable to go for a glass one.
Pros
Powerful motor
8-cup capacity
Removable blades (easy cleaning)
Stacked blade assembly
Cons
Not very quiet
Plastic container
5. Hamilton Beach Power Elite Blender
While the Hamilton Beach Power Elite Blender isn't the most powerful out there, it does the job fairly. The blender has 700-watt peak power.
Temperature handling is a key factor to consider in a blender because cheap container material won't withstand the consistently high temperatures, which may result in cracks.
You can have your bulletproof coffee smoothly blended in this blender; the container will handle the fats and the high temperatures during the process as it's made of good old glass.
Moreover, the blender is quite simple to clean too. You can remove the blade for thorough cleaning. Plus, the container, blades, and lid are all dishwasher safe.
Another plus of this blender would be its cheaper price point; you are getting the necessary functionality at a minimal cost.
However, it's quite loud. And, it's a little hard to get the lid to come off and put it on the blender.
Pros
Glass container
Simple to clean
Easy to use
Dishwasher-safe
Inexpensive
Cons
The lid is hard to use
Pretty loud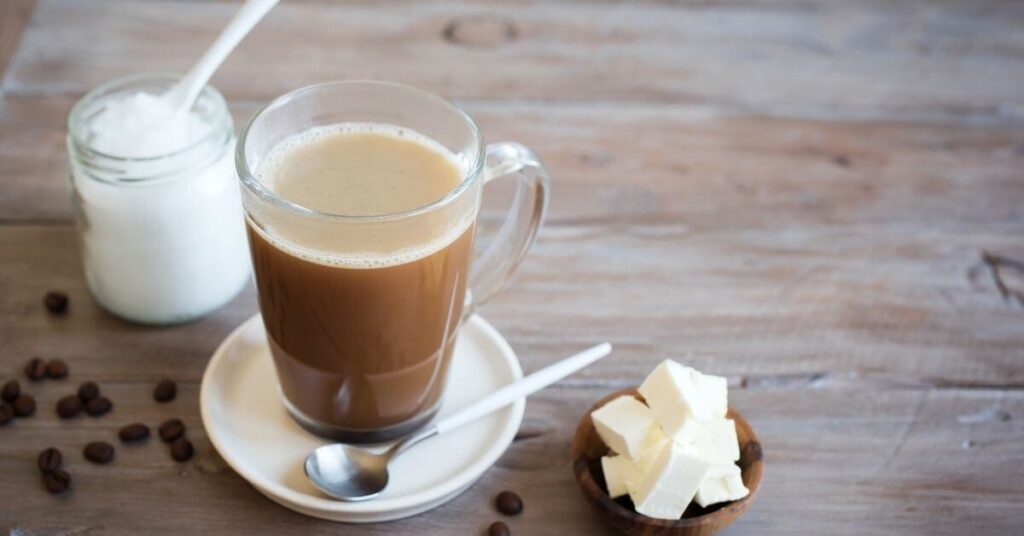 6. KitchenAid Hand Blender
The KitchenAid Hand Blender offers great control while blending your coffee. It's a hand blender (a.k.a. immersion blender), so you just hold it in your hand, optimize the speed of the blending, and get the desired consistency in your bulletproof coffee.
The jar of the blender is BPA-free, so you can use it with peace of mind, whatever the temperature of your coffee. The fat handling wouldn't be a problem either.
Plus, the 4-point stainless-steel blade design helps in achieving a smoother coffee, without the oil getting separated on the top.
The blades are stainless steel, so you won't have to worry about their durability or the safety of your hot bulletproof coffee.
And, the stainless-steel blades are not inside the jar, which makes them a whole lot easier to clean. You will just have to rinse them under warm water with some soap. You can also detach the blending arm for thorough cleaning.
However, the hand blender is a little heavy, but easy to use. Another caveat would be that most of the parts are made of plastic.
Pros
Powerful motor
Easy to clean
Easy to use
Handles temperature and fats
Stainless-steel blades
Cons
A little heavy
Mostly plastic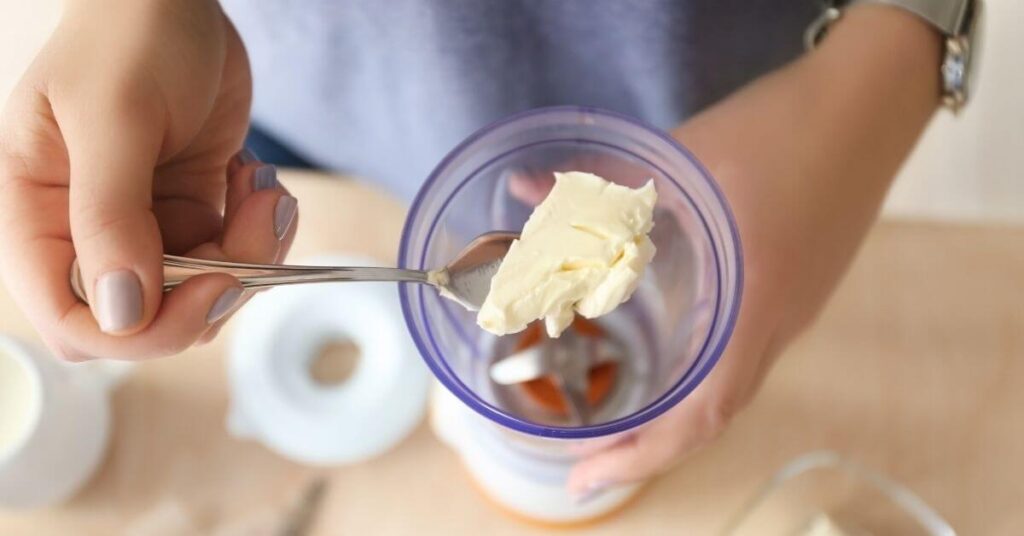 7. Breville Control Grip Blender
The Breville Control Grip Blender is also a hand-held blender with an impressively ergonomic grip.
You can control the speed of blending with your thumb on the button at the top of the blender for the desired consistency.
It comes with a pot with chopping stainless-steel blades and can seamlessly handle the hot coffee temperatures and fats.
You can also use any pot with this immersion blender, or maybe, blend your bulletproof coffee in your mug.
The face of the blender is scratch-resistant, eliminating the possibility that your jar will get damaged while blending.
Plus, the 8-inch immersion depth allows you to use it in large jars for the whole squad or family.
Moreover, the blender is pretty easy to clean and has quite a powerful motor too. The blades are covered with a shroud, making them safe.
However, you may find it a little difficult to fully grab the handle depending on your hand size. And, like most blenders on the market, it's a little noisy, especially when operated at the max speed.
Pros
Powerful
Ergonomic handle
Jar with stainless-steel blades
Easy to use clean
8-inch immersion depth
Cons
Noisy at full speed
The handle is a little big
---
Related Posts:
---
How To Make Bulletproof Coffee?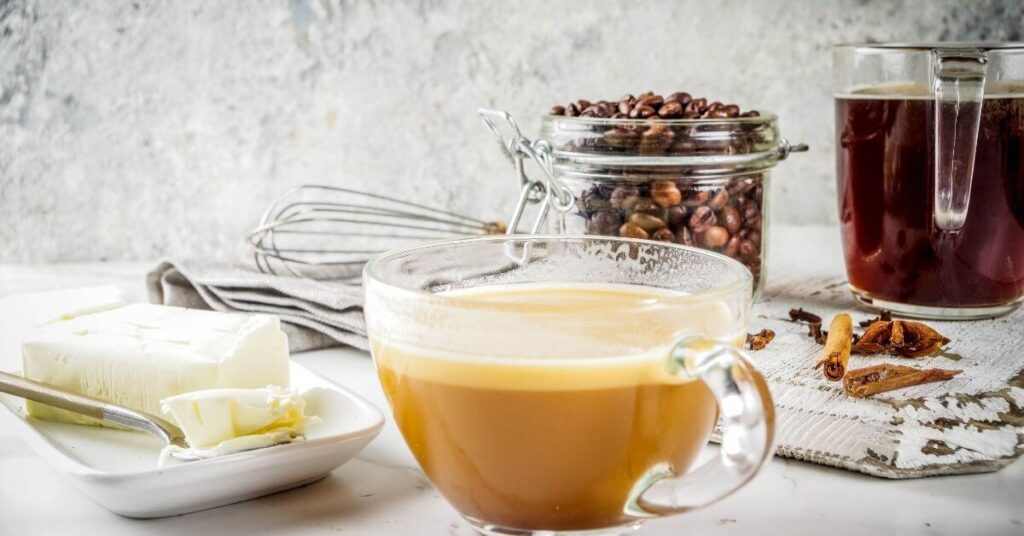 There are three ingredients in bulletproof coffee:
A cup of hot black coffee
Unsalted, grass-fed butter
Medium-chain triglyceride (MCT) oil
Simply prepare your cup of black coffee, and blend it with the fats until it's a smooth, creamy texture.
Feel free to modify the recipe to suit your needs. The important thing to remember here is that bulletproof coffee is keto-friendly. So you don't need to add MCT oil, or brain octane oil, or even butter. But whatever fat you choose to add should be a tasty, healthy fat.
Can You Make Bulletproof Coffee Without A Blender?
Technically, you don't need a blender to make bulletproof coffee, but you won't like the results. Keep in mind that bulletproof coffee is mostly fat and water. The only way to get those two ingredients to mix into a smooth and stable drink is with a blender.
You can also try to blend fat and water manually, but it won't work for long. The fat needs to be effectively blended with your coffee for a bulletproof coffee with good consistency.
A blender blends your coffee, butter, and oil with power and uniformity, allowing the fats and coffee to blend properly.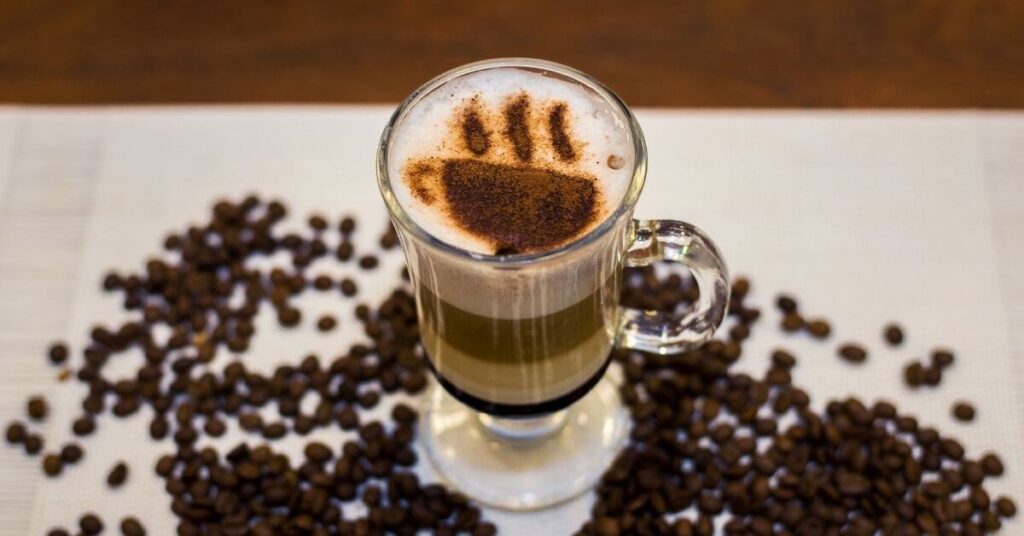 Other Things To Consider
Noise Level Of The Blender
Since bulletproof coffee is a breakfast substitute, most blending is done in the morning. If you live with late sleepers you may want to invest in a quiet blender.
Power Of The Motor
Thankfully, there are powerful blenders that don't make much noise. So, don't compromise on the power as it's the key to creating a velvety cup of bulletproof coffee.
Blade Design – Affects Consistency
Although it's not a critical factor, the blade design can affect the consistency of your bulletproof coffee. So, make sure to get a blender with an effective blade design.
Lid Design
The lid design is important because you don't want too much steam pressure to build up inside the container. A vented lid design allows excessive steam to escape the container, making the process safer.
Shop For Related Products
Best Blender For Bulletproof Coffee – The Bottom Line
There are several great blenders for bulletproof coffee. But our top choice is the Vitamix 5200.
Now you know that a coffee blender is almost imperative for a smooth and frosty bulletproof coffee. You can't get the desired consistency if you were to manually blend butter, oil, and coffee in a mug. You don't want oil floating at the top of your coffee.
But, choosing the best blender for bulletproof coffee can be a tricky business, given the lack of relevant information out there. Worry not; after reading this article, you will be in a position to land on the right coffee blender for yourself.
Just compare the desired features with what these coffee blenders have to offer, and you will be able to make an informed and confident purchase.
Cheers!

KEEP READING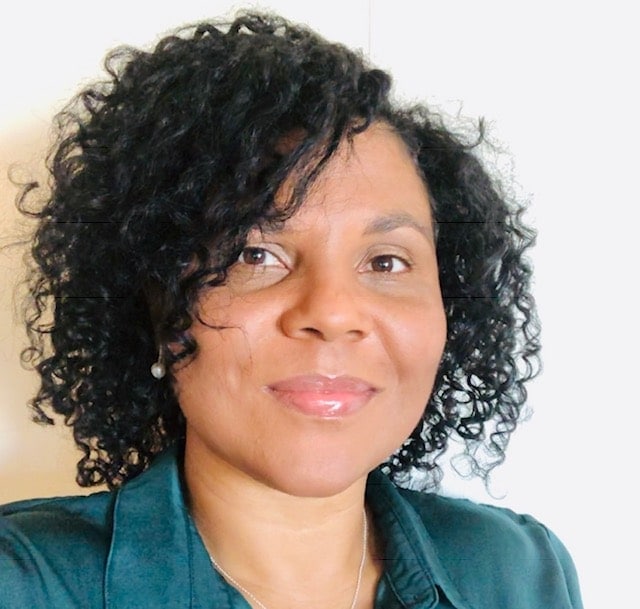 Idalmis is co-owner of Coffee Break Lovers. She is a Cuban coffee enthusiast that is passionate about coffee and coffee culture.