Although Rwanda coffee has been gaining recognition in the coffee world it, unfortunately, remains one of the most underestimated coffees out there.
Rwanda coffee is mostly of the bourbon variety, so it's sweet and full-bodied with a silky texture. And while Rwanda coffee can have different flavors, it tends to be fruity, chocolaty, and citrusy.
This amazing taste profile comes from its soil quality, high altitudes, and the high-quality arabica coffee they cultivate.
In this post, we're going to cover Rwandan coffee in detail. By the end, you'll know
the best Rwandan coffee to buy
the history of Rwandan coffee
what makes Rwanda coffee unique
the best ways to brew Rwandan coffee
Let's dive in!
Rwanda Coffee: Top Picks
Best Rwanda Coffee
Cooper's Rwanda is a single-origin and fair trade coffee. With these beans, you can expect an intense aroma and a smooth, full-body mouth feel. And the taste profile is brown sugar, caramel, and a ginger snap.
Cooper's coffee beans are roasted in small batches to make sure roasted beans are shipped out as soon as possible.
As for the brewing method, it's ideal for the French press. Overall, Cooper's Rwanda full-body, medium roast coffee stands out and provides a unique experience to coffee lovers.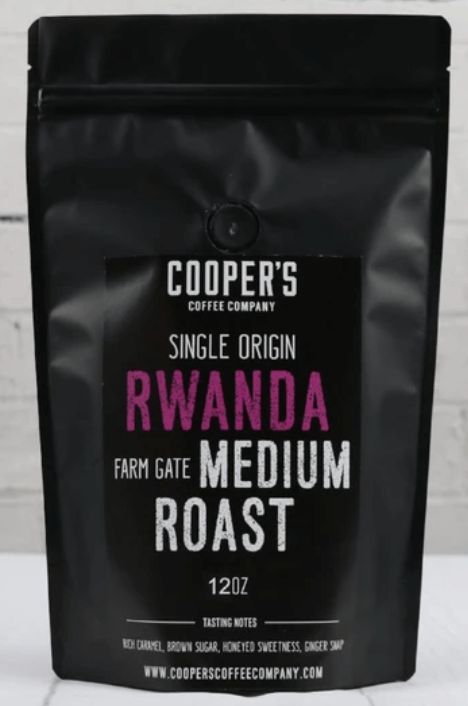 ---
This organic Rwandan coffee is sourced from the Fair Trade certified COOPAC cooperative. Which is an association of over 2,200 farmers committed to selling high-quality coffee using environmentally and socially sustainable methods.
These are arabica coffee beans that were grown near Lake Kivu at 1,800 meters above sea level, so they qualify as an SHG coffee.
This Rwanda Bean coffee is roasted in small batches for quality control and freshness. So, when you purchase a bag, you know you're getting the best beans possible!
And because of their growing conditions, these beans have a sweet, heavy body with notes of cherry, lemon, and grapefruit.
They're definitely worth a try!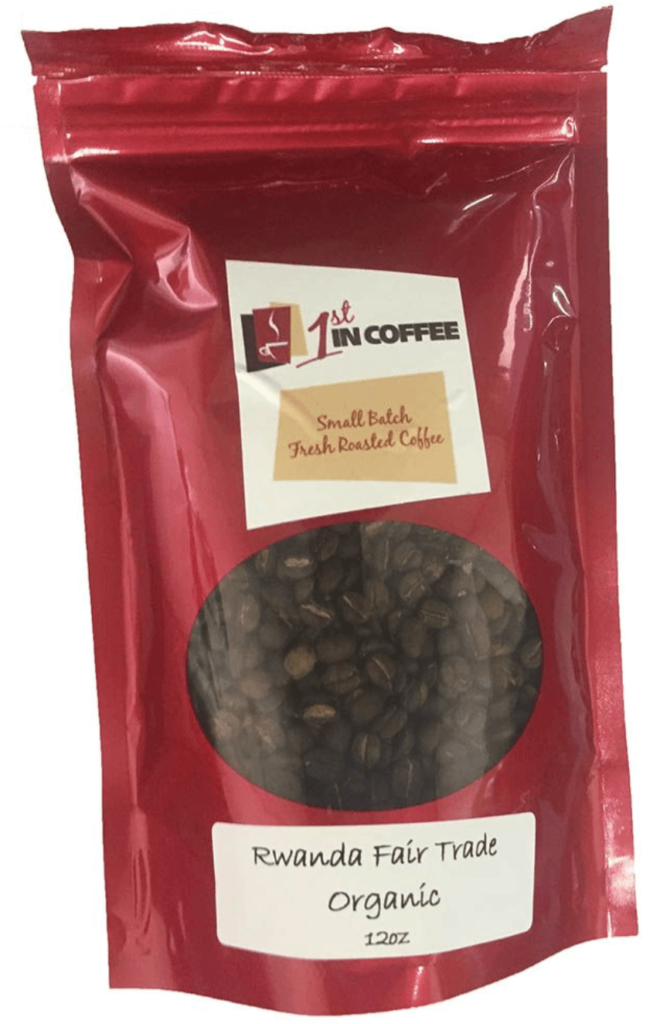 ---
If you want a coffee that's fresh off the roaster, you'll definitely want to check this one out.
This company medium roasts the beans after you place your order. On top of that, they offer fast shipping as well. This makes sure that your coffee beans are delivered as fresh as possible!
The flavor profile of these Rwandan coffee beans can be described as fruity, delicate with a smooth finish, and hints of berries, peach, and black tea which makes it a great coffee to try in the first place!
---
Cubico Rwanda Kopakaki is grown by small coffee farmers in the Karongi District in western Rwanda. These Rwanda coffee beans are also fair trade and certified.
Cubico coffee has a pretty smooth finish and hints of lemony citrus. As far as the roast is concerned, it's medium to medium-light.
Once this coffee is brewed you can expect a full-bodied cup of coffee with a wine-like finish and notes of black tea.
These beans do equally well regardless of your brewing method; whether it's french press or pour-overs! In either case, your brew will produce an excellent coffee that won't disappoint!
---
Organic Rwanda is a light roast bean with notes of brown sugar, passion fruit, and a smooth finish. Fresh Roasted immediately packages its beans after roasting, which keeps the beans fresh for as long as possible.
These are bourbon variety beans, which means you can expect to enjoy a smooth and sweet cup of coffee.
If you're ready to enjoy a Rwandan coffee with bright acidity, and notes of citrus, fruit, and brown sugar, then try Fresh Roasted.
---
Yes, this is the same Kirkland Signature you find at Costco, and it's pretty amazing!
These are dark roast whole beans that have a wonderful chocolaty and nutty aroma. Like the aroma, the taste is also chocolaty with earthy flavors, floral notes, and a nutty finish.
And like most dark roast beans, Kirkland's Rwandan brews a full-bodied cup of coffee that's velvety smooth.
If you want to try amazing beans at wholesale prices, then check out Kirkland Signature.

---
Kivubelt coffee is single-origin arabica beans. They were grown near Lake Kivu in Rwanda which is known for its high elevation, ideal climate, and moist environment.
This coffee is a dark roast and brews a full-bodied coffee with a silky smooth texture. Although it's a dark roast, the smoky bitterness isn't overpowering. Instead, the flavor is sweeter with chocolate notes.
Besides the phenomenal flavors, this specialty coffee believes in supporting its farmers and responsibly sourcing its product. So, the price may be a little higher than other similar coffees.
But if you believe in their cause and want to drink a great coffee, consider giving Kivubelt a try!

---
Last but not least: It's Amazon's own brand AmazonFresh. The coffee beans are directly sourced from Rwanda and come at an incredible price point.
The AmazonFresh direct trade Rwanda coffee is easily the best on our list as far as value for money is concerned.
This is a single-origin coffee, 100% arabica beans that produces an enjoyable cup with a minimum bitter aftertaste
With this light roast, you will be able to enjoy the caffeine boost. As far as the flavor is concerned, it's predominantly nutty with a hint of citrus.
All in all, it's rare to get such quality coffee at this price point. After all, it's 100% Arabica.
---
What Makes Rwanda Coffee Unique?
The uniqueness of Rwandan coffee comes from the high elevation, soil conditions, climate, and amazing flavor profile.
Over the last few years, Rwanda has become more and more significant in the specialty coffee market. It has even caught the attention of the likes of Starbucks and other popular coffee brands.
All the factors we mentioned above contribute to the success of the modern Rwandan coffee industry. But let's go through each one by one and see exactly what makes this coffee so great.
High Elevation
Rwanda is known as "the land of a thousand hills". And because of this, the Rwanda coffee plants are usually grown on hillsides at high altitudes.
These altitudes are cooler and have less oxygen, so the coffee beans grow slower and have time to absorb additional nutrients from the soil. As a result, the sugars they develop are more complex and the coffee has a rich, creamy body.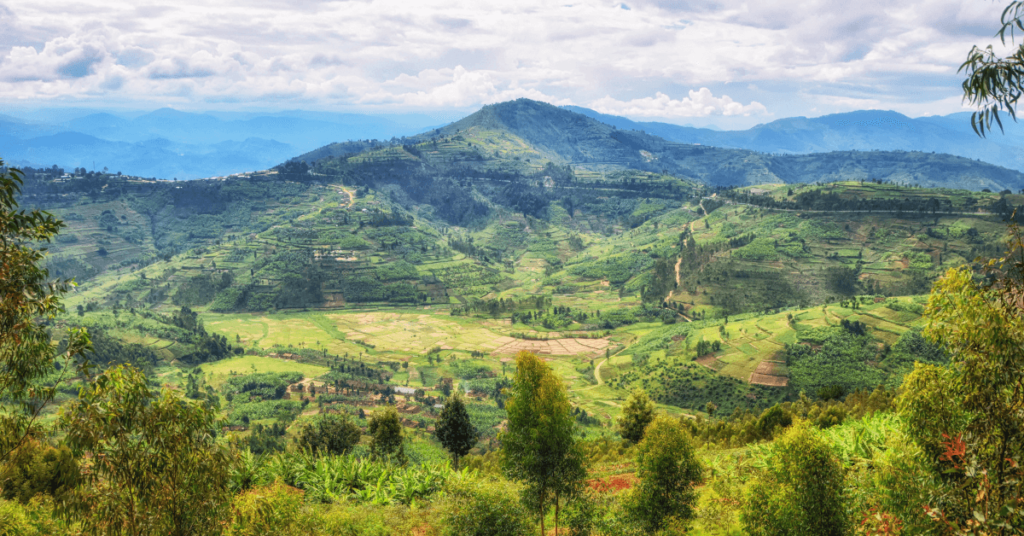 Soil Conditions
Many parts of Rwanda have poor soil quality. But the farmers there practice soil management and mulching to improve the quality of the land.
However, Rwanda has one producing region with very fertile soil; Lake Kivu. The soil around Lake Kivu contains a lot of nutrient-rich volcanic ash, so it produces high-quality coffee that's very unique.
Climate
The natural climate in Rwanda is tropical or sub-tropical, so there's plenty of warm weather and rainfall. This, combined with the high altitudes gives the country a nearly perfect climate to grow coffee plants.
The result of Rwanda's climate is that the beans have a crisp and bright acidity similar to Kenyan coffee.
Rwandan Coffee Flavor Profile
Many Rwandan coffees have the wine, fruity and floral notes common to African coffee in general. But Rwanda is also known for its citrus, caramel, and spice notes.
Not all Rwandan beans taste exactly the same and the flavor profile depends on the subtle differences between their varieties.
But, no matter what part of the country Rwanda coffee comes from, some elements remain unaltered.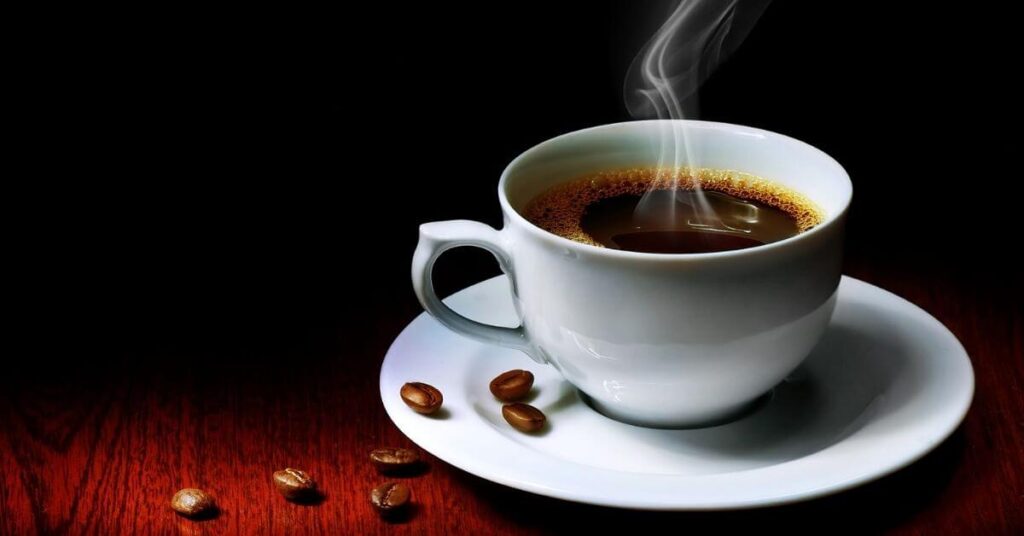 Rwanda Coffee Processing Methods
In Rwanda, coffee is usually wet-processed in communal washing stations. The process might vary slightly from station to station, but the basic method is always the same.
Step 1: Sorting And Floating
The first step in the wet-process method is the sort the green coffee cherries from the ripe ones.
The ripe coffee cherries are then placed into water. And the undesirable, low-density coffee floats and is easily removed.
Related Posts:
Step 2: De-Pulping
After separating the good coffee from the bad, the coffee needs to be de-pulped. This is often done by running the coffee fruit through a de-pulping machine which removes the husks and leaves raw green beans.
Step 3: Fermenting And Drying
Although the pulp is removed, the coffee beans still retain the sweet, sticky mucilage. To remove it, the green beans are fermented and washed to remove any residual impurities.
Finally, the beans are dried under the sun or with mechanical dryers. Then, the coffee is milled. The polished bean is now ready for the roaster.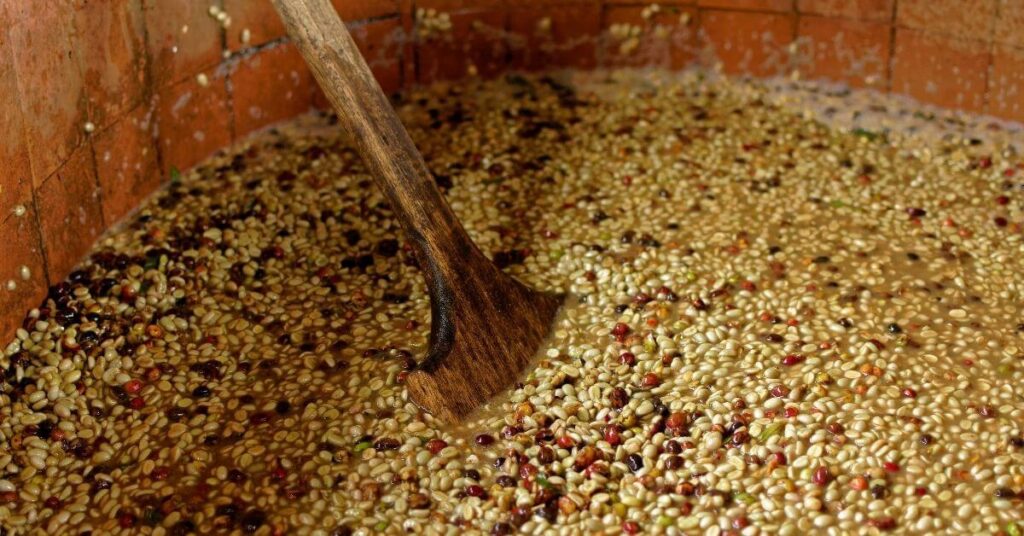 Best Way To Brew Rwanda Coffee
Since Rwanda is a producer of specialty coffees with delicate and unique flavors, I prefer to brew them using a french press.
With this brewing method, all the coffee's oils and flavors end up in the final cup. So, you can really appreciate the nuanced flavors and full-bodied texture that comes from Rwandan beans.
With that being said, the best way for you to brew Rwandan coffee depends on what you prefer.
If you buy dark roast Rwandan coffee you may want to try making espresso. Or you may find that the french press is a little intense and choose to go with the pour-over method.
In the end, whatever pleases your taste buds is the way to go!
Rwanda Coffee History
The country's current coffee industry is completely different from the one that existed before the Rwandan genocide. Because of this, it's helpful to separate their coffee history into two separate eras.
Coffee Industry Before The Rwandan Genocide
The history of Rwanda's coffee industry begins in the early 20th century when colonists brought coffee plants to the country.
Years after the first plants were brought over, the controlling Belgian government implemented large-scale coffee production. They did this by forcing the native Rwandans to grow cheap low-quality coffee.
Unfortunately, most of the profits (and coffee) the industry generated were taken out of the country.
After Rwanda gained independence, its coffee sector continued to expand and eventually made up 70% of its exports.
Coffee Industry After The Rwandan Genocide
After the civil war, Rwanda had no coffee industry. However, the government greatly encouraged the return of coffee production and wanted to emphasize high-quality beans.
To accomplish this, the government invested in communal washing stations. This meant coffee farmers no longer had to process coffee in their own homes.
Today, there are several hundred washing stations in the coffee-growing regions. And these stations have greatly increased the quality and premium of Rwandan beans.
Best Buying Practices For Rwandan Coffee Beans
In general, coffee producers and farmers face a lot of issues. They're often exploited and have a hard time getting fair pay for their work. This is also the case for Rwandan coffee growers as well.
When you buy Rwanda coffee beans, there are a few things you can do to support these workers.
First, be on the lookout for Fair Trade or Direct Trade bean coffee. While certifications like Direct Trade don't really guarantee that workers are all being treated fairly, it does show that some effort is being made to promote sustainable practices.
Next, do research into the companies you buy from. Many big coffee companies don't carry Rwandan coffees (probably because of the issues Rwanda has faced as a country) so you may end up buying from smaller companies.
By doing due diligence you may be able to find out about worker conditions.
The Bottom Line: Rwanda Coffee
Although the country has many issues, Rwanda has worked hard to revitalize its coffee industry. And while Rwandan coffee is still highly underrated, they are slowly becoming a specialty coffee powerhouse.
The best Rwanda coffee is known for its full body and sweet, delicate flavors. A perfect cup of this coffee will have a sweet caramel flavor, with floral and fruity notes along with undertones of orange blossom and chocolate.
If you've ever tried Rwanda coffee, what did you think of it? Let us know in the comments below!
Cheers Coffee Lovers!

KEEP READING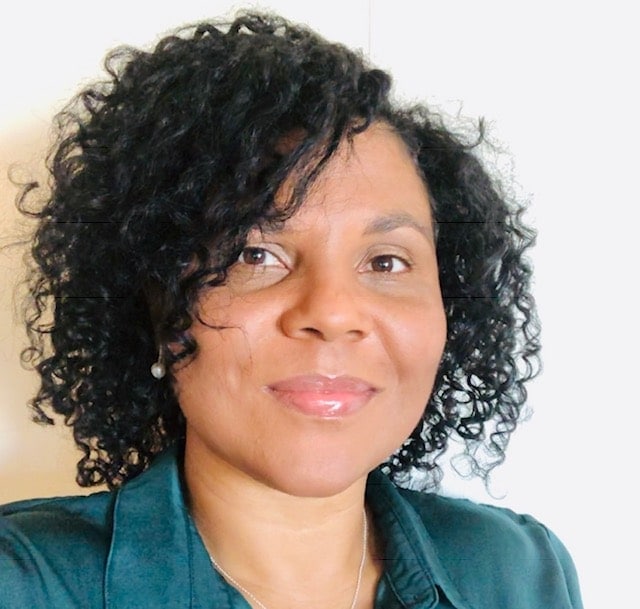 Idalmis is co-owner of Coffee Break Lovers. She is a Cuban coffee enthusiast that is passionate about coffee and coffee culture.