For most coffee lovers a thousand dollars is way too much to spend on an espresso machine. Personally, I get a bit anxious when the price tag is over a few hundred bucks. So, I searched around to find the best espresso machine under 200 dollars.
The De'Longhi 15 bar Pump Espresso Maker is my #1 choice for budget espresso makers. De'Longhi has a great reputation for making high-quality espresso machines and is known for making a good espresso.
I know that finding the best espresso machine under $200 isn't easy. An espresso isn't an ordinary cup of coffee and an espresso machine isn't an ordinary brewer.
We've done the research for you and found 8 highly-rated espresso machines that can make good espresso at a reasonable price range.
But we're not just going to give you our list of recommended machines – we're also going to quickly discuss each type of espresso machine and which may be best for you.
Let's jump right in!
Shop For Related Products
What Type Of Espresso Machine Is Best For You?
Before we get into the nitty gritty details of the best espresso machines under 200 dollars, let's talk about different categories of espresso machines.
After all, we'd hate for you to buy a coffee maker that requires skill and labor to operate if all you want is quick espresso at the push of a button. And vice versa…
Espresso machines can be broken down into three main categories:
Superautomatic,
Semi-automatic, and
Manual
Here's a quick overview of what each one does and doesn't do.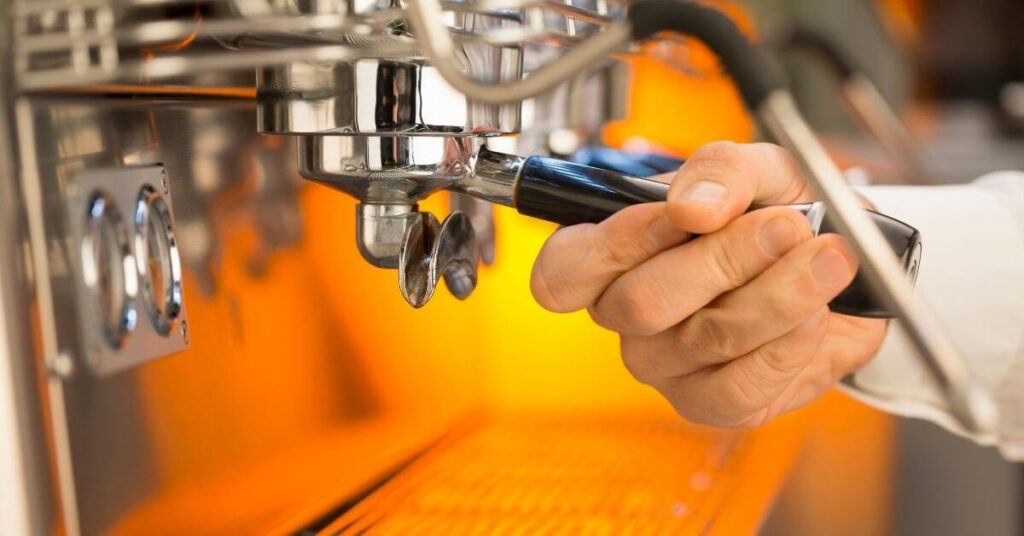 What Is A Superautomatic Espresso Machine?
Superautomatic espresso machines do everything for you with the push of a button. They'll grind the coffee, tamp it, brew it and dispense it in seconds. It's basically a barista in a box.
These machines do it all! And they make a fabulous espresso shot every time too! But that makes them fabulously expensive as well!
But there are some superautomatic espresso machines under $200! (That's what you're here for, right?)
What is a Semi-automatic Espresso Machine?
Semi-automatic machines take a lot of the know-how out of making espresso. But you do need to know a few things; like how to grind your own beans and how to use the portafilter and tamper.
These espresso makers are the most popular choice for home-made espresso.
What is a Manual Espresso Machine?
Earlier we mentioned that there are a lot of factors to making good espresso; coffee grind size, amount of coffee used, tamping pressure, water temperature, extraction pressure.
Superautomatic machines handle all of that for you.
Semi-automatic handles most of it.
Manual machines handle none of it. It's all you!
This could be right down your alley if you're an espresso brewing enthusiast. But if you just want to drink a good espresso and leave the chemistry to the coffee nerds then you can skip the manual brewer.
Ok, now that that's out of the way, let's jump into the details of our best picks.
---
Related Posts:
---
De' Longhi 15 Bar Pump Espresso And Cappuccino Maker
The De' Longhi Espresso and Cappuccino Maker is our #1 choice. This brand has a phenomenal reputation and is known for making high-quality coffee makers.
Using the dual-function filter holder in this semi-automatic coffee machine, you can extract your coffee grounds either through a ground coffee or a convenient pod.
Want to make lattes and cappuccinos at home? The swivel jet frother makes them perfectly with ease.
And, thanks to the self-priming operation, there is no need for you to do pre-preparations. The On/Off switch makes coffee making straightforward.
Want to control the temperature of your coffee? The espresso machine features two thermostats; one for controlling water pressure and the other for steam pressure. So, you can control both separately.
And, although the espresso machine is inexpensive, the boiler is made up of high-quality stainless steel material. This makes it long-lasting as well as safe for your coffee.
Moreover, the 15-bar pump pressurizes the ground coffee to perfectly extract your shot of espresso. And, you can brew two cups of coffee at a time.
This espresso machine is easy to clean; and, the removable water tank can be easily filled or cleaned.
However, the water tank is a little small, so you will have to refill it often.
Accessories include a tamper and a steel drip tray.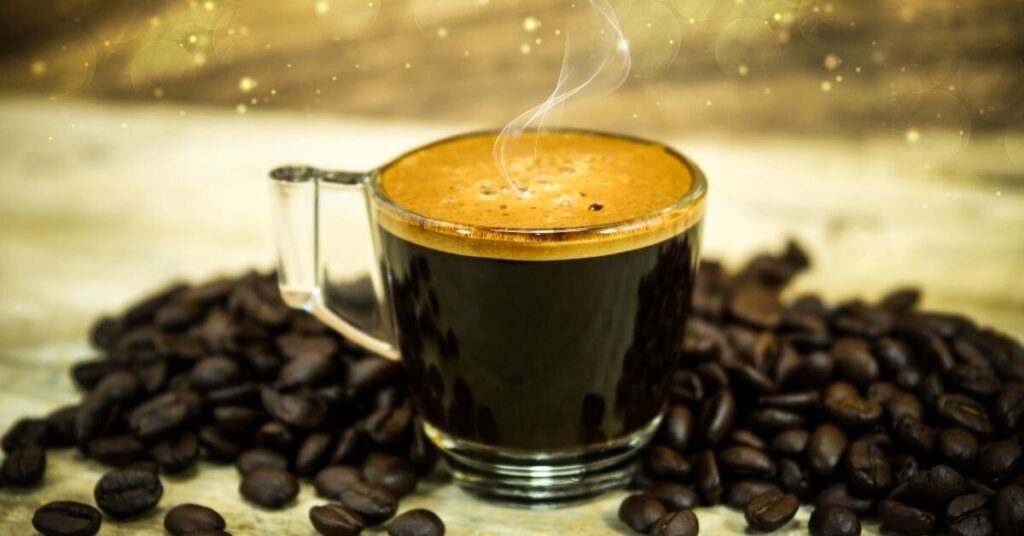 Pros
Simple to use and clean; lattes and cappuccinos; low price range; precise control of temperature.
Cons
Small water tank.
Hamilton Beach Espresso Machine
The Hamilton Beach Espresso Coffee maker is an awesome little machine.
It has a slide and lock filter holder that makes the coffee brewing process a breeze. You just have to push the filter holder in and lock it from the sidebar.
Want the option to use Espresso pods as well as ground coffee? This one has both the options for you.
Moreover, the 15-bar pressure pump produces a rich crema and makes sure your coffee is extracted with perfection.
You won't have to worry about the coffee dripping down as there is a removable drip tray and water reservoir to take care of any dripping liquid.
And, you can also froth and steam your milk using the swiveling steam wand.
Made your coffee and can't serve right now? The Espresso machine's cup warmer takes care of your coffee temperature, keeping it warm and fresh.
However, the head of the coffee machine is a little low; so, you can put limited size mugs under it. And, the wand is only good for heating the milk.
This espresso maker is quite easy to operate. And more importantly, its price tag won't break the bank for providing a decent cup of espresso.
Accessories for this coffee maker include a tamper, espresso filters, and a drip tray (removable)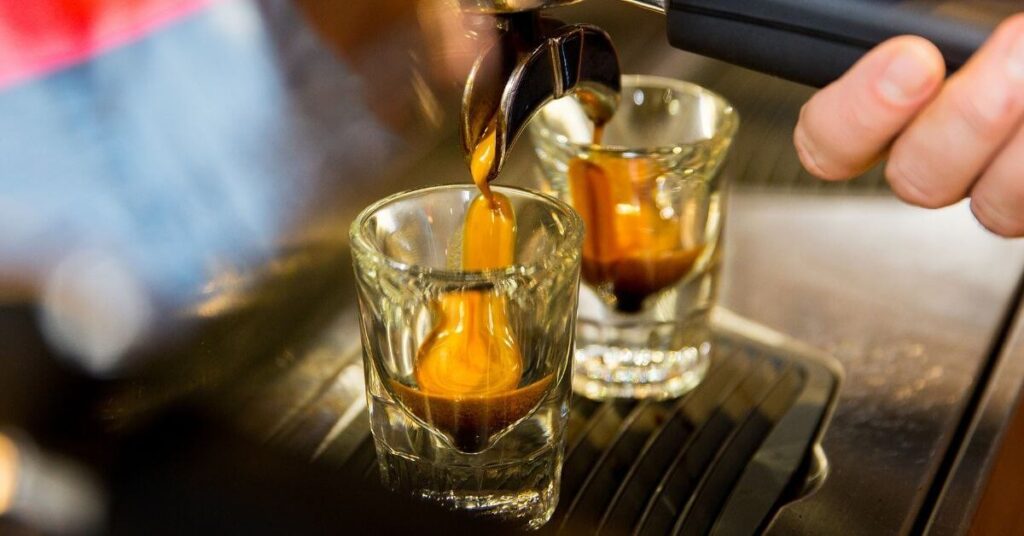 Pros
Easy to use; comes with milk frother; makes single or double shot of espresso; cup warmer.
Cons
Head is a little low; wand is only good for heating milk.
Mr. Coffee Espresso And Cappuccino Maker
The Mr. Coffee Espresso Espresso and Cappuccino Maker is a semi-automatic machine that allows you to make espresso shots, cappuccinos, and lattes.
The Espresso maker has a 15-bar pump system that extracts the optimum amount of flavor and caffeine from your coffee beans.
Moreover, the automatic milk frother makes your work easy and produces a thick foam for a creamy taste.
The control panel allows you to select your coffee type with just a touch; whether it be a latte, cappuccino, or Espresso.
The Cappuccino maker has easy to fill milk and water reservoirs. You can detach both of them for easy cleaning too.
It's quite easy to operate too; all you have to do is choose a single/double shot filter and grounds, fill up the milk reservoir and finally choose the brew type you want.
Considering the price and the quality of the coffee brewed, this coffee machine is pretty good investment.
However, the porta-filter is somewhat difficult to put in. You may have to exert extra force to get it inside the machine.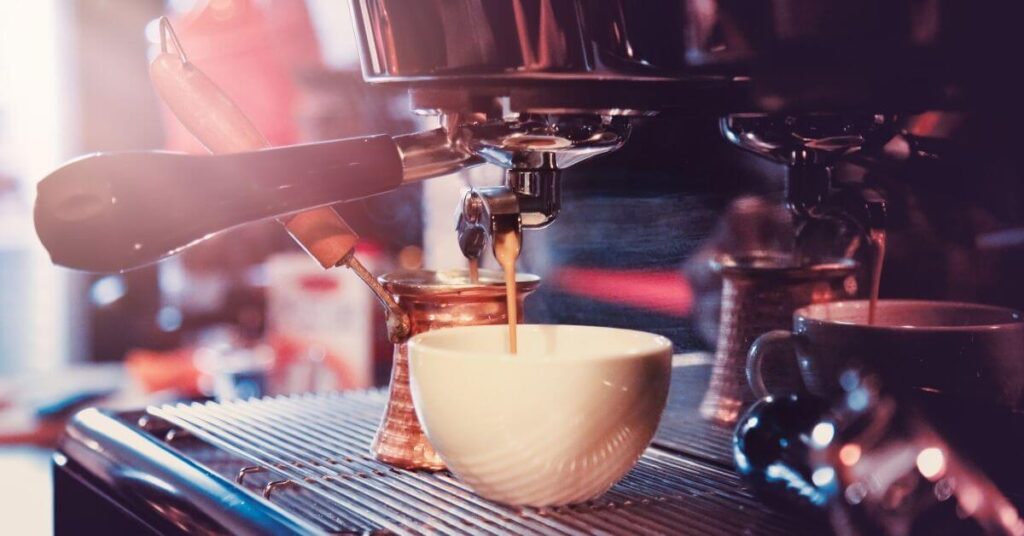 Pros
Simple to use; low price range; 3 in 1: Lattes, Cappuccino, Espresso; automatic milk frother; detachable water and milk tanks.
Cons
Porta-filter is a bit difficult to put on.
Cuisinart EM-100NP1
This Cuisinart espresso machine comes with a 15-bar pressure pump, so it will provide a rich taste of your favorite coffee beans.
Plus, you can make 1 or 2 cups by using either a coffee pod or Espresso grounds. The Espresso machine also allows you to keep your coffee warm on the cup warmer.
And, there is a drip tray that can be used for any coffee overflows. It's removable, so you can clean it and re-install it easily.
Moreover, this stainless steel Espresso machine has a removable water tank, which means you can easily refill or clean it. There is a light that indicates when the Espresso is heating the system.
And, there is a steam wand that's ideal for steaming milk for your Cappuccinos and Lattes.
Importantly, this coffee machine offers you 3 coffee brewing methods: Cappuccino, Latte, and Espresso, making it a 3 in 1 solution for your coffee needs.
Espresso makers are normally expensive. You won't have to break the bank to have this one.
However, you will have to diligently clean the coffee maker with vinegar to get a strong Espresso coffee. And, it's not comparable to expensive premium brands but provides a decent cup of Espresso.
Accessories include a steam nozzle, removable drip tray, frothing cup, and tamping tool.
Pros
3-in-1 functionality: Lattes, Cappuccinos, Espressos; simple to use; heating indicator light; removable water tank; inexpensive.
Cons
Not the best quality Espresso; requires regular cleaning.
---
Related Posts:
---
Breville Vertuo
The Breville Vertuo is a Nespresso machine that's perfect for coffee lovers.
It's a single-serve Espresso maker that offers barista grade coffee…for under $200. Thanks to its patented centrifusion technology, this machine produces a rich crema and consistent brew.
The word centrifusion is a combination of two words: Centrifuge and infusion. This means that the capsule spins inside the machine while water is being injected into it.
And, although this Espresso maker is designed to be used only with Nespresso Vertuo capsules, you won't want a different method after tasting it.  
Moreover, you can brew 5 different cup sizes with the Breville Vertuo:
Alto (14 oz),
Coffee (7.7 oz),
Gran Lungo (5 oz),
Double Espresso (2.7 oz) and
Espresso (1.35 oz)
This Breville Espresso maker also offers a starter capsule pack. It's complimentary, so you are not paying for it.
This espresso maker has a 40 oz water tank that you can remove to refill easily.
For those of us who are conscious of the electricity use, there is an automatic shut off feature that turns the machine off after 9 minutes of inactivity.
However, the machine doesn't come with a milk frother, so you will have to buy it separately. Plus, the coffee pods are available exclusively either on Amazon or Nespresso; they can't be reused and are expensive too.
It doesn't come with accessories other than a free pack of Nespresso capsules to get you started.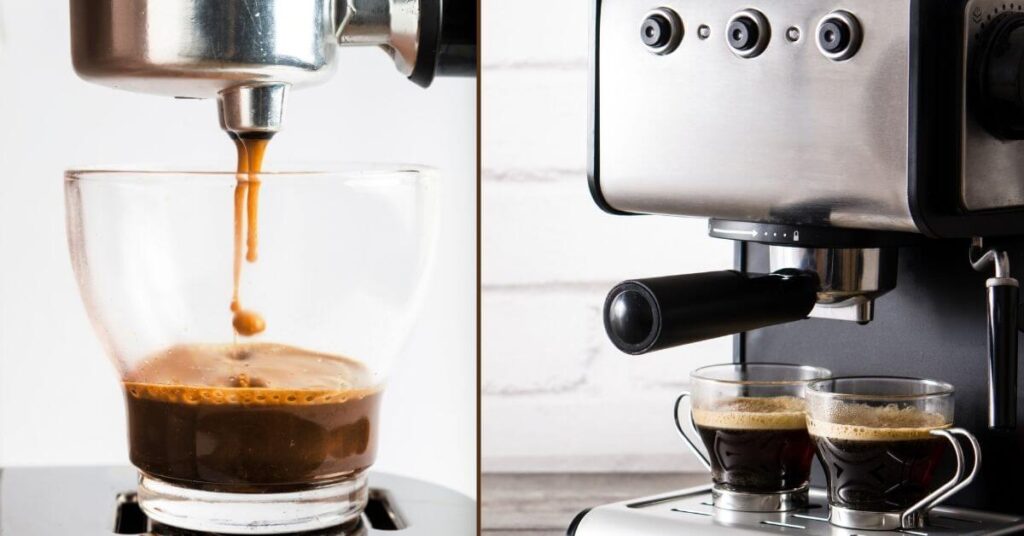 Pros
Rich crema; easy one-touch use; 5 different cup sizes; free starter capsule pack; 40 oz removable water tank; energy saving auto-shutoff feature.
Cons
No milk frother; expensive and non-reusable pods.
Klarstein Passionata Rossa 20 Espresso Machine
The Klarstein Passionata is a stylish and durable espresso maker that can add a little glamor to your kitchen.
Besides the aesthetics, this Espresso maker is quite easy to keep clean; the stainless steel drip tray is removable, allowing you to clean it easily.
Do you like foam in your coffee? Well, this one has got a steaming nozzle that allows foaming of a variety of coffee types.
And, you can make the milk according to your liking because the nozzle is adjustable.
And, there is a water reservoir with a capacity of about 6 cups. You can remove it for easy refill and occasional cleaning.
The higher the pressure a pump produces in an Espresso machine, the better will be the coffee.
Many Espresso makers offer 15 bars of pressure, which is great for a quality Espresso. This one has the capacity to put 20 bars of pressure onto your coffee beans to produce an even better Espresso.
And, the size of this model is quite small, especially considering the 1350 watts of power it generates.
The handle and the tray, however, seem low in quality.
All in all, it's a great way to make your own Espresso easily at home and is quite cheap too.
Accessories for this espresso machine include a measuring spoon and a steam nozzle.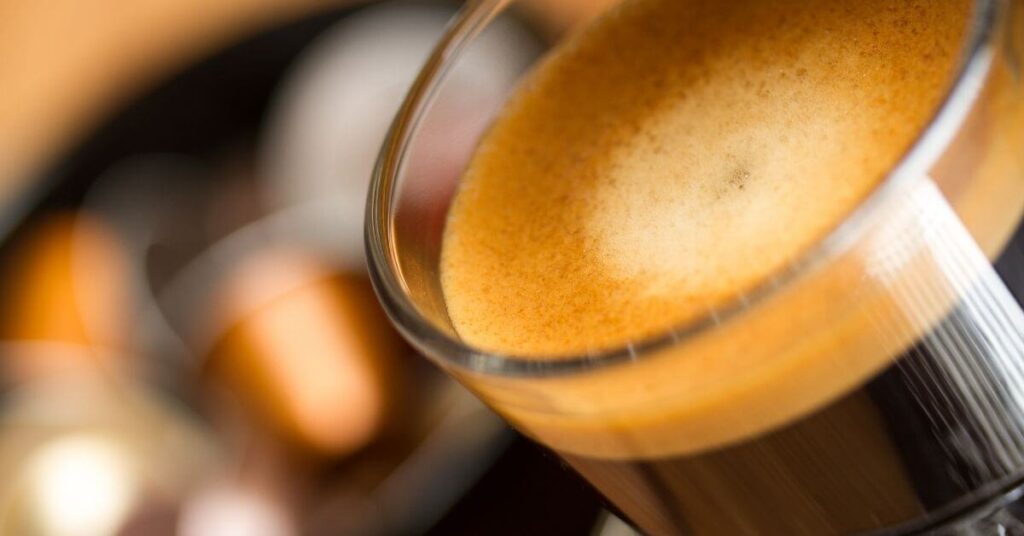 Pros
Simple to use, affordable; 20-bar pump pressure; compact and powerful; 6 cup reservoir capacity.
Cons
Low-quality handle and tray.
Nespresso VertuoPlus Coffee and Espresso Machine
The Nespresso VertuoPlus is for you if you would like a versatile single-serve coffee maker. If you are looking for the best espresso machine under $200, this one might be it.
Because it uses barcoded pods, this capsule machine adjusts its parameters according to the pod's specifications. So, the espresso machine does all the thinking, and you get a barista level espresso anytime you want.
Espresso makers aren't always simple to operate, but this model works with one touch of a button.
Although it only works with Nespresso Vertuo capsules, these capsules make your Espresso making a breeze.
Naturally, the best espresso machine under $200 won't be right up there with its premium counterparts. However, you are getting the premium features at a pretty low price point.
Moreover, it's pretty compact, making it suitable for those with limited shelf space in their kitchen.
However, the pods are only sold by Nespresso and cost a little over a buck each. Something to keep in mind if you are not willing to spend on the pods in the long term.
But, if you're trying to cut back on trips to your favorite coffee shop like Starbucks coffee, this Espresso matches the quality. And, you are not investing too much upfront.
Accessories for this espresso machine include a milk frother and a free set of Nespresso capsules.
Pros
Simple to use; compact design; high-quality Espresso; inexpensive.
Cons
Pods are expensive.
---
Related Posts:
---
Rok Manual Espresso Maker
The Rok Manual Espresso Maker is next up on our best Espresso machine under $200 list. Be aware that this model isn't a one-touch Nespresso or even a semi-automatic machine…
…it's completely manual. So you'll need some skill to use it!
But it does have a unique design and can brew you a quality cup of coffee.
Manual Espresso machines require labor and know-how, which inhibits your capacity to brew multiple cups of coffee.
Although this is a manual coffee making machine, you will be able to brew your coffee fairly easily. This is because of the user-friendly design.
You just have to push down on the handles of the Espresso maker and the rest will be done by the machine.
However, you will be needing consistent coffee grounds for this to work best. And, although a little experimentation with the ground size is required, once you get there, it's worth the research.
Easy to use and clean Espresso machines make your life easier. This one is quite easy to take apart, which makes it easy to clean.
So, if you are looking for manual Espresso machines that you can use on the go, or even on your travels, this one would make a great option.
Accessories for this coffee maker include a coffee scooper and a manual milk frother.
Pros
Easy to clean; unique and effective design; best for on the go Espresso.
Cons
You'll get the best results with very consistent and fine grounds.
Which Machine Is Right For You?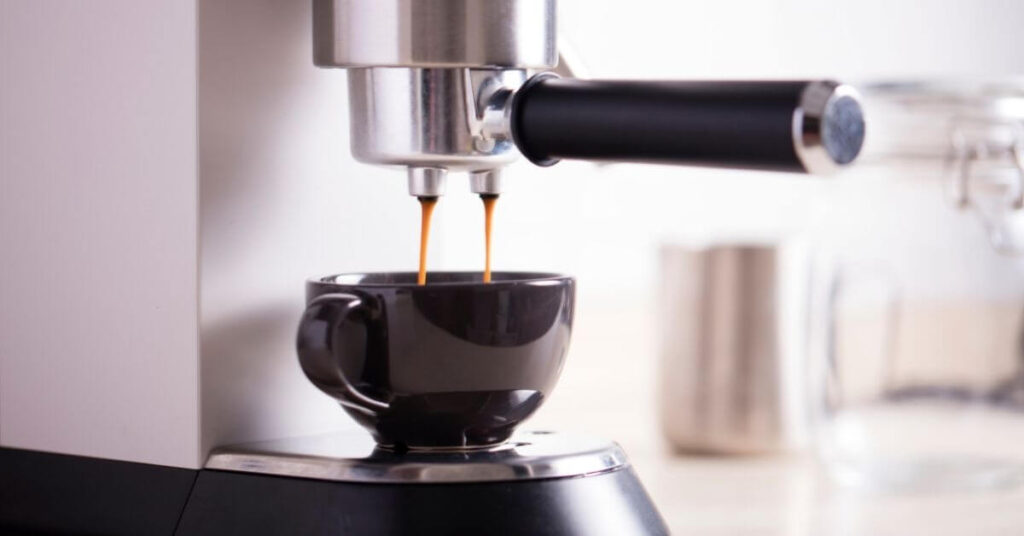 There are quite a few machines out there that make a great espresso, but at the end of the day, which one is right for you?
Well, that's ultimately up to you, but if you want your espresso at the push of a button the best espresso machines under $200 would be the Breville Vertuo and the Nespresso VertuoPlus.
On the other hand, if you want a semi auto espresso maker, I'd try out the De'Longhi.
And if you want a manual machine, you've got to go with the Rok Espresso Maker.
Shop For related Products
Best Espresso Machine Under 200. The Bottom Line
There you have it! Our list of 8 of the best espresso machines under 200 dollars. Keep in mind that while price is an important consideration, you should also take into account the type of machine you're looking at.
Meaning, don't get a manual machine if you want your espresso shot at the push of a button. And don't get a Nespresso capsule machine if you want control over the espresso-brewing process.
After going through this article, we hope you're a more confident espresso machine buyer and have a better understanding of which machine is right for you.
Cheers coffee lovers!

KEEP READING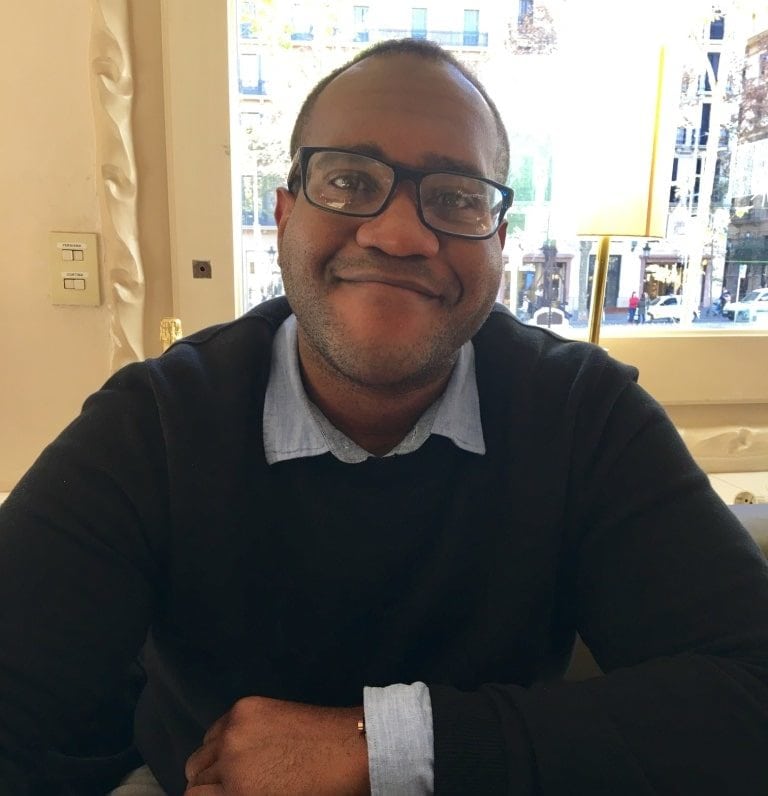 Oliver is co-owner of Coffee Break Lovers. The only thing he loves more than the process of brewing coffee is drinking it.