Cold brew coffee is smooth, low acid, and filled with caffeine, which makes it a great option during your intermittent fast. But what is the best cold brew coffee for intermittent fasting?
Personally, my two favorite coffees for cold brew are Volcanica's Cold Brew and Cooper's Guatemalan. These two coffees have phenomenal flavor, which makes them easy to drink without sugar, milk, and all the other additives you can't have during your fast.
However, there are several coffees that I've tried and would recommend to you as well. Some come as ground coffee that you'll have to prepare yourself, others are pre-made and ready to drink.
So, we've got whatever you're looking for!
Best Cold Brew Coffee (Ground Coffee)
Table: Best Cold Brew Coffee Grounds
1. Volcanica Cold Brew
Volcanica Coffee (link to Volcanica's website) is well known for its top-notch quality coffee and its fresh roast.
This low-acidity cold brew coffee makes it perfect to have during your fasting days. Even though you will drink it black it goes easy on your stomach and still produces a very flavorful cup.
These coffee beans are a blend of Sumatra coffee with low-acid Arabica beans which makes the perfect blend for a cold brew coffee.
Expect a rich, bold, and silky cup, with a well-balanced flavor with caramel undernotes
Volcanica cold brew is one of our top recommendations because of its excellent quality and exceptional flavor!
2. Cooper's Cold Brew Coffee
Cooper's Cold Brew ( link to Cooper's website) has a smooth and sweet profile that tastes of milk chocolate, creamy caramel, and a hint of orange. This coffee is a well-balanced medium roast that's bold but not overwhelming or bitter.
We particularly recommend Cooper's Guatemalan Coffee for your cold brew. The flavor in these single-origin beans impressed me from the first sip. They have a great depth of flavor, a nice mouthfeel, and no harsh aftertaste. Just smooth and delicious coffee – and the aroma and freshness are incredible!
Cooper's cold brew is our second recommendation if you want to enjoy a flavorful cup during your fasting hours! They also have more than one cold brew option to pick from! Give it a try!
3. Bizzy Cold Brew Coffee Grounds
Bizzy Cold Brew ( link to Amazon) comes in coarse ground which makes it perfect for cold brew coffee. It consistently makes a rich and smooth cold brew with no sludge in your cup.
This coffee gives you the perfect punch of caffeine and energy to get through the day.
The coffee comes in a resealable bag ensuring the freshness you need to brew a flavorful cold brew every time. This coffee has no bitter aftertaste and is a good option for those that want a stomach-friendly cold brew coffee.
Their coffee beans are ethically sourced from countries like Peru, Guatemala, and Nicaragua.
4. Stone Street Cold Brew Coffee
Stone Street (link to Amazon) cold brew coffee makes a bold and balanced cup of coffee.
These coffee beans are high-quality beans from Colombia. Stone Street coffee produces a cup that's low-acid, and slightly sweet, with a well-balanced flavor perfect during your fast.
When brewing, you can choose to adjust the strength to make your coffee extra strong by adding more coffee or letting brew for a longer time.
Stone Street has the perfect grind to get a smooth coffee flavor with a subtle hint of chocolate and bold roast flavor.
Related Posts:
Best Cold Brew Coffee For Intermittent Fasting (Pre-Made Coffee)
Table: Best Cold Brew Coffee ( pre-made coffee)
Best Cold Brew Coffee (Pre-Made Coffee)
5. Wandering Bear
Wandering bear (link to Amazon) is another great cold-brew coffee you can enjoy at any time.
Buying cold brew that is already made is easy and convenient to use right out of the box. You just need to keep it in your fridge and fill your cup with the press of a button.
This cold brew coffee is strong, with a smooth finish, refined acidity, and nutty notes, which makes it a good option to drink during your fasting hours.
It contains 10 calories per serving of 6 oz, 2g of carbs, and 150mg of caffeine which will help you get a boost in your fasting benefits.
This cold brew is organic and unsweetened, after opening you'll need to keep it on the fridge, and once open will last 30 days.
6.Java House
Java House ( link to Amazon) cold brew coffee is a single-origin, medium roast.
It has a smooth flavor, with no bitterness, and a strong aroma that you will fall in love with.
This Colombian roast cold brew is rich with a subtle caramel finish and hints of chocolate.
It contains 15 calories,3g of carbs, and between 145-175 mg of caffeine per serving.
Once is open, it'll last one month in the fridge. This cold brew is made from 100% Arabica Beans
7. La Colombe Cold Brew
La Colombe Cold Brew ( link to Amazon) is another great brand that we'd recommend. This is one of the first pre-made cold brews that we tried and we loved it.
La Colombe is affordable, bold, and delicious with a clean taste. You can find it in bottles or cans, so it's perfect if you're fasting on the go. La Colombe is also sold as black coffee or as a canned latte, so it's a great option whether you're fasting or not.
Their black coffee has only 5 calories, 0 carbs, and 275mg of caffeine per serving.
La Colombe extra bold is made from 100% arabica beans from Brazil.
8. SToK Cold Brew Coffee
SToK Cold Brew (link to Amazon) is wonderfully smooth and bold, we fell in love with it at first sip. This black coffee is sold sweetened and unsweetened; but of course, only the unsweet coffee is fasting-friendly.
The unsweetened version also comes in light, medium, and dark, so whether you like really strong coffee or not, SToK has something you'll like
SToK coffee is made from 100% arabica beans and it has 15 calories, 3g of carbs, and 145 mg of caffeine per 12 oz serving.
One thing we should mention is that SToK coffee on Amazon is expensive (at the time of writing). So, we don't recommend buying it online, instead, pick up a bottle of SToK at your local supermarket for a better deal.
(We included Amazon links here, just to show you which SToK coffee we tried and recommend).
9. Starbucks Cold Brew Coffee
Starbucks( link to Amazon) is the coffee brand that everyone knows and loves. While we don't take very many trips to Starbucks, their cold brew is actually really good and is a perfect option during a fast.
Starbucks cold brew comes in different flavors, but their unsweetened black coffee has a balanced flavor with notes of cocoa that you'll love.
As with most cold brews, Starbucks' coffee is nice and smooth with a bold taste. It's made with medium-roast coffee beans and it has 15 calories, 3g of carbs, and 210 mg of caffeine per bottle.
Related Posts:
How To Pick A Cold Brew That Is Fasting-Friendly?
The best cold brew coffee for fasting will have the following characteristics:
It should be unsweetened black coffee because any sugar or milk that's added will immediately break your fast. But what about calories and carbs? Doesn't every coffee have low calories and no carbs?
Let's quickly talk about these.
Why Does Cold Brew Have More Calories Than Others?
If you've been looking into coffee, you may have noticed that some coffees have 0 calories per serving, while others may show 15 calories per serving. There are a few possible reasons for this.
First, it could be how cold brew coffee is made. Each brand may use its own bean-to-water ratio when they're making cold brew. The more beans are used, the more sugars and oils are extracted. This means more calories.
Calorie count could also be affected by the bean's species, region of origin, or whether it's single-origin or blended coffee. For example, coffee grown in certain conditions may have more sugar than other beans. This could potentially affect the calories in the cold brew.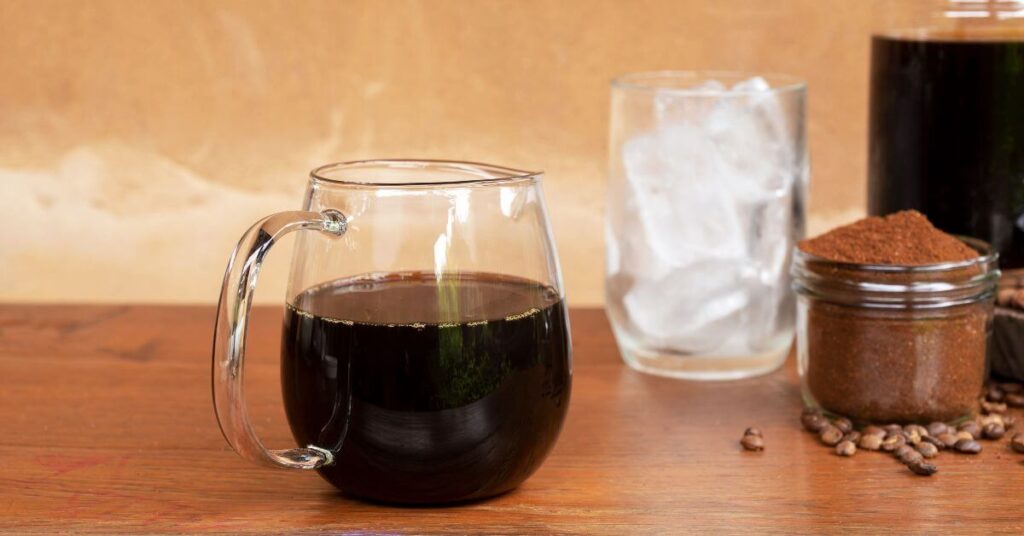 Why Does My Cold Brew Have Carbs?
All coffee has some amount of carbs. The fact is, that sugars, acids, and oils are what give your coffee its flavor.
The brewing process extracts these compounds from the coffee beans and pulls them into the water. So essentially, you can't drink coffee (even black coffee) without consuming some sugar.
And when you consider that cold brew coffee is made with a lot more beans than hot coffee, the amount of sugars you're extracting is going to be higher as well.
Will Coffee Roast Types Affect My Fast Differently?
The level of the coffee roast will not affect your fast differently. So, whether you drink black coffee brewed from light, medium, or dark roast beans, your fast will remain unaffected.
While it is true that different roasts have different ratios of compounds, (i.e. lighter roasts have more acids, medium roasts have more sugars, darker roasts have more oils) the amount you'll consume is at such a low level, you won't break your fast.
Cheers Coffee Lovers!

KEEP READING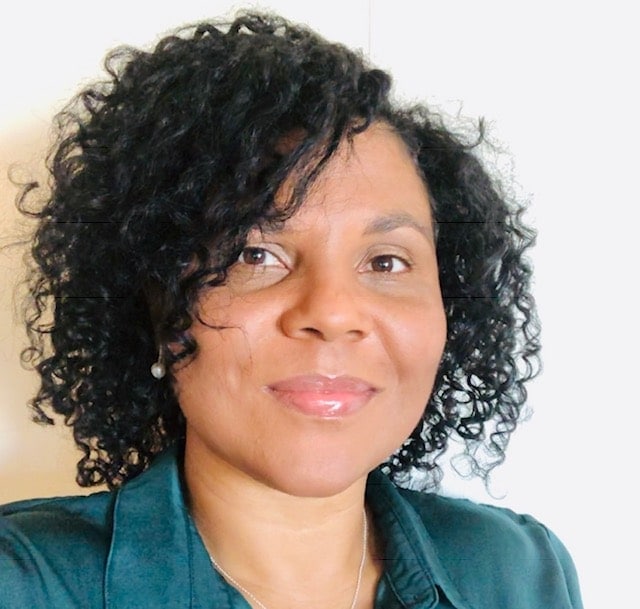 Idalmis is co-owner of Coffee Break Lovers. She is a Cuban coffee enthusiast that is passionate about coffee and coffee culture.